TPK Koja Ramaikan Forum Manajemen IPC Group Semester I 2019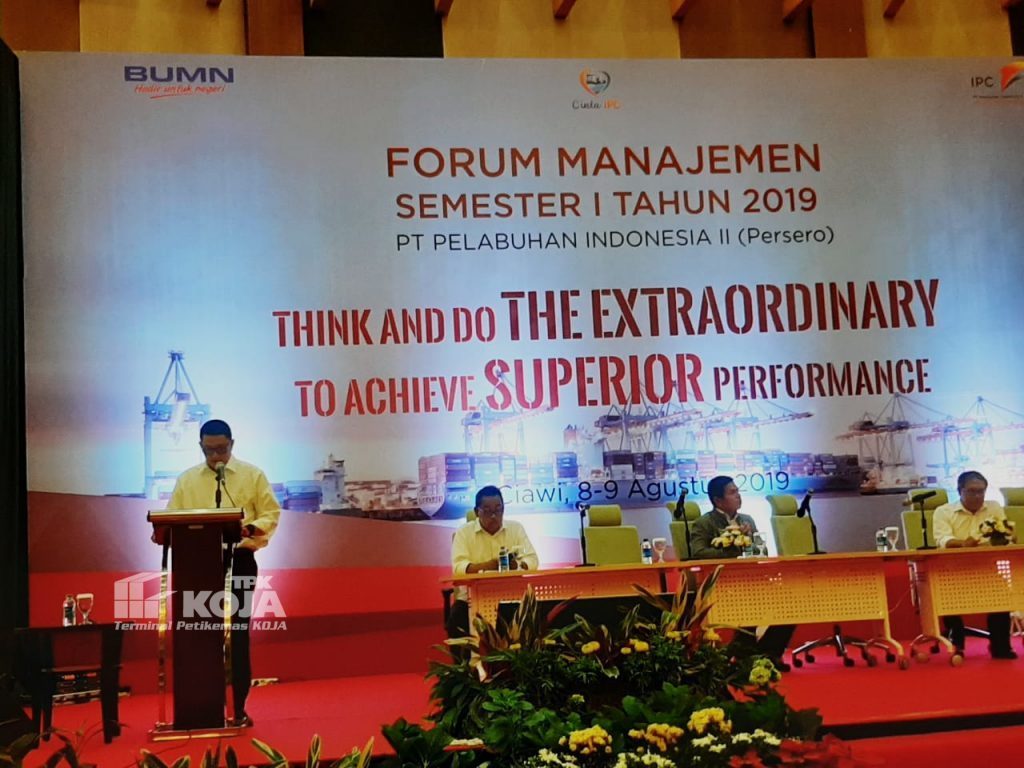 Ciawi. PT Pelabuhan Indonesia II kembali menyelenggarkan Forum Manajemen untuk Semester I Tahun 2019. Acara yang bertajuk "Think and Do The Extraordinary to Achieve Superior Performance" ini diselenggarakan selama 2 (dua) hari mulai tanggal 8 – 9 Agustus 2019 bertempat di PT Pendidikan Maritim dan Logistik Indonesia (PMLI), Ciawi-Bogor. Acara ini dihadiri oleh Direksi dan General Manager dari seluruh Cabang dan Anak Usaha PT Pelabuhan Indonesia II.
Acara berlangsung menarik dan dibuka oleh Direktur Utama PT Pelabuhan Indonesia II Elvyn G. Masassya yang pada kesempatan ini mengingatkan akan target yang telah ditentukan perusahaan dan bagaimana menghadapi tantangan bisnis kepelabuhanan di masa yang akan datang.
Selain Direktur Utama PT Pelabuhan Indonesia II Elvyn G. Masassya, turut hadir juga sejumlah direksi diantaranya Direktur Operasi Prasetyadi, Direktur Keuangan Widyaka Nusapati, Direktur SDM Rizal Ariansyah, Direktur Komersial Arif Suhartono, Direktur Teknik Dani Rusli Utama dan Direktur Transformasi dan Pengembangan Bisnis Ogi Rulino. Masing-masing direksi juga turut menyampaikan pemaparan progress pencapaian kinerja sesuai bidangnya masing-masing.
Setelah pemaparan direksi, dilanjutkan pemaparan dari Direksi dan General Manager Cabang dan Anak Usaha. Dalam kesempatan ini, GM TPK Koja Ade Hartono memaparkan progress pencapaian kinerja TPK Koja selama 1 (satu) Semester di tahun 2019. Selain itu, Ade Hartono juga menyampaikan permasalahan strategis yang dihadapi TPK Koja diantaranya adalah permasalahan terkait dengan perbaikan dan perkuatan dermaga.
Dalam kesempatan ini, Direktur Teknik Dani Rusli Utama menyampaikan dukungannya terkait proses perbaikan dan perkuatan dermaga di TPK Koja, selain itu beliau juga menyoroti dampak pemberlakuan PSAK 73 di tahun 2020. Dalam kesempatan akhir beliau juga meminta agar TPK Koja mempersiapkan mitigasi risiko terkait pemadaman listrik oleh PLN.
Selain Direktur Teknik, Direktur Operasi Prasetyadi menginggatkan kepada seluruh Cabang dan Anak usaha di lingkungan PT Pelabuhan Indonesia II untuk mempersiapkan pemberlakukan peraturan PSAK 73 seperti persiapan yang dilakukan oleh TPK Koja.
Corporate Secretary TPK Koja
(Visited 865 times, 1 visits today)
Please follow and like us: