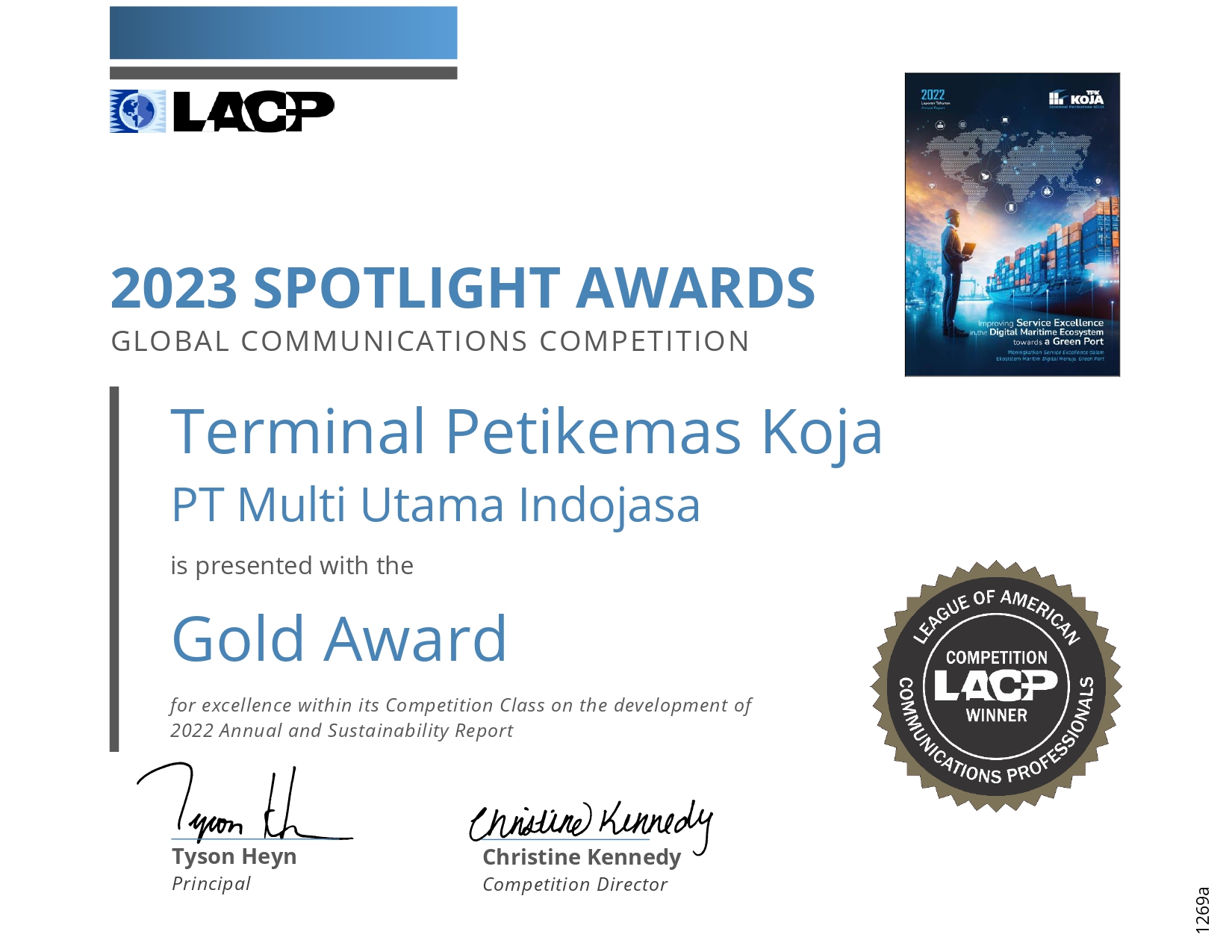 Jakarta, Pada hari Senin 20 November 2023, KSO Terminal Petikemas Koja mendapatkan penghargaan Gold Rank pada ajang "2023 Spotlight Awards Global Communications Competition" yang diselenggarakan oleh League of American Communications Professionals LLC (LACP), forum yang didirikan di Amerika Serikat sejak tahun 2001. Adapun penghargaan Gold Rank yang diterima oleh KSO Terminal Petikemas Koja tersebut diperuntukkan atas kategori Annual Report dan masuk ke dalam 100 besar peringkat secara global dalam hal Annual Report terbaik pada ajang penghargaan tersebut.
Pada ajang yang diikuti oleh perusahaan-perusahaan terkemuka di dunia ini, KSO Terminal Petikemas Koja menampilkan Annual Report tahun buku 2022 yang diberi judul "Improving Service Excellence in the Digital Maritime Ecosystem towards a Green Port" (Meningkatkan Service Excellence dalam Ekosistem Maritim Digital Menuju Green Port). Atas laporan tahunan milik KSO Terminal Petikemas Koja tersebut mendapatkan skor 98 dari 100 atas hasil penilaian juri dari berbagai komponen.
Terima kasih kami ucapkan kepada Dewan Pengawas, Manajemen, dan seluruh Karyawan/ti KSO Terminal Petikemas Koja serta pihak-pihak yang terlibat di dalamnya sehingga KSO Terminal Petikemas Koja kembali menorehkan prestasi atas penghargaan ini. Kami juga ucapkan terima kasih kepada PT Multi Utama Indojasa yang membantu KSO Terminal Petikemas Koja dalam penyusunan Annual Report KSO Terminal Petikemas Koja Tahun Buku 2022.
Adapun informasi selengkapnya terkait capaian prestasi yang diraih oleh KSO Terminal Petikemas Koja tersebut juga dapat Anda akses pada laman berikut: https://www.lacp.com/2023spotlight/awards-global-communications-competition-1269b.htm.
Sekper-TPK Koja